The Sphere - Second Round




Professional Outreach Program




11th Annual International Invitational Exhibition
March 5th through June 4th, 2017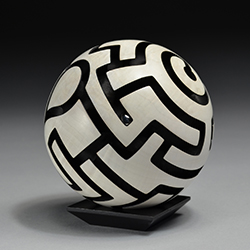 Featuring work by more than 40 artists from 11 countries, The Sphere-Second Round challenged artists to work creatively within two constraints: the work need to be 6 x 6 x 6" or smaller, and needed to relate to the title theme. All but four of the pieces in the exhibition were created at least in part on the lathe.
Interpretations range from humorous and playful to apocalyptic.
The roster for the exhibition is a international mix of emerging and established studio wood artists, and the work shown represents a wide range of the techniques, materials and genres of the field today.
"This is the second time that the theme is a sphere within the prescribed dimension of a six-inch cube," notes Mark Sfirri. "The first time, I was concerned that the design requirements would limit the range of responses too drastically for the results to be interesting. I thought the difference among the entries might come down to the species of wood. Needless to say, once I saw the exhibition, I realized I had underestimated everybody."
"Working within constraints requires drawing deeply on skill, creativity and inventiveness," commented Tib Shaw, who co-curated the show with Sfirri. "For viewers, the POP exhibitions highlight the almost endless ways that a specific 'problem' can be approached, creatively and technically."
And, frankly, the show is a lot of fun!
The Sphere-Second Round will premiere at the AAW Gallery of Wood Art in St. Paul, MN, and run March 5 through June 4, before traveling to the 2017 AAW International Woodturning Symposium, Kansas City Convention Center, Kansas City, MO, June 22-25. All works will be sold in a simultaneous live/online auction on Saturday, June 24, 2017.
To be notified when auction items are available for bidding, please click here.
Shown above: Miriam Carpenter, Find Your Bearings, 2017
Shown below: Michael Hosaluk, Anthony Smith, Neil Turner, Miriam Carpenter, Luc Deroo, Nicholas Flaherty, Miriam Wahl
Participating Artists:
Jennifer Anderson, California | David Belser, New Hampshire | Jerome Blanc, Switzerland | Michael Brolly, Pennsylvania | Miriam Carpenter, Pennsylvania | David Ellsworth, Pennsylvania | Melissa Engler, North Carolina | J.Paul Fennell, Arizona | Nicholas Flaherty, Pennsylvania | Michael Foster, Vermont | Vivien Grandouiller, France | Stephen Hatcher | Keith Holt, US | Michael Hosaluk, Canada | Katie Hudnall, Indiana | Yuri Kobayashi, Massachusetts | Pat Kramer, Hawai'i | Craig Lofton, Texas | Zina Manesa-Burloiu, Romania | Yann Marot, France | Terry Martin, Australia | Al Miotke, Illinois | Phillip Moulthrop, Georgia | John Mydock, Hawai'i | Joss Naigeon, France | Andrew Potocnik, Australia | Graeme Priddle, New Zealand | Avelino Samuel, U.S. Virgin Islands | Merryll Saylan, California | Betty Scarpino, Indiana | Neil Turner, Australia | Gerrit Van Ness, Washington | Marjin Wall, Oregon | Derek Weidman, Pennsylvania | Hans Weissflog, Germany | Kimberly Winkle, Tennessee | Leah Woods, New Hampshire
AAW Gallery of Wood Art
222 Landmark Center | 75 5th St W | St. Paul, MN 55102 | 651.484.9094