Creativity in Construction - a Collaboration of Materials
Ninth Annual Professional Outreach Program (POP) Exhibition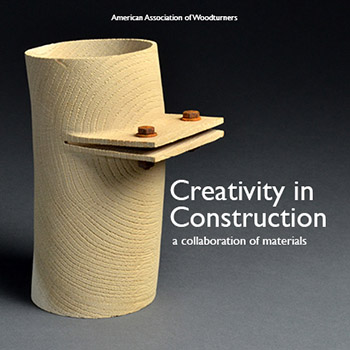 AAW Gallery of Wood Art March 3 to June 7, 2015
AAW International Woodturning Symposium, Pittsburgh, Pennsylvania, June 25-27, 2015
Auction, live and online, Saturday, June 27
View catalog
View process images: Artists A-D Artist H-R Artists S-Z
The annual POP exhibition brings together work created by studio woodturners from around the world. The show features small-scale works (this year the maximum size is 8" x 8" x 8") in a wide variety of woods and other materials.
The 2015 theme encouraged the artists to create work using more than one material, and to document their creative and/or technical processes. Some of the invited artists have already been combining materials for many years, for others it was a new challenge.
For the first time, the annual POP exhibition, usually by invitation only, included a small number of juried pieces.
AAW Gallery of Wood Art | 222 Landmark Center | 75 5th St W | St. Paul, MN 55102 | 651.484.9094